The 2013 Elsmore grand tour - our last day in Iceland
Well, today is our last day here before we move on. Yesterday was another relaxing day :-) After a morning spent sitting in the sun and reading (yes, really!) We investigated the local town of Keflavik - which it appears is largely shut on a Sunday! However, Dominos was open so at least we got lunch..... Yes, I know - terrible.
Most of the afternoon was taken up a visit to the Blue Lagoon. I've got to admit, I'm not a huge one for spa days (surprising, I know), but I'm very glad we went. A few hours of sitting in a hot pool, sipping beer and generally relaxing was a very good way to spend the afternoon. And, actually not too busy either. It's not high season of course, but 4pm onwards seems to be a good time to visit.
No photos of the Blue Lagoon of course, as there was no way I was taking my camera in there. Unlike the many other people who did wander in with (non waterproof) cameras and even HTC One's - in leather cases..... So, you'll have to make do with this shot from the cafe;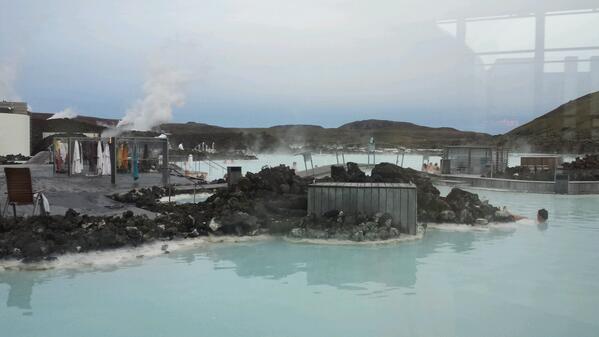 I did, however get time last night to upload a couple of the stop motion panoramas I've taken so far. They are very rough cuts because, well, I'm on holiday! The first is from the National park, the second from our apartment. Enjoy: