The 2013 Elsmore grand tour - getting to Iceland
It's been a while since we've been away. Away on holiday at least! A cousins' wedding in Boston in a week or two was as good a reason to get away as any... so here we are. The 2013 Elsmore grand tour!
We actually left blighty on Tuesday. With Monday to gather our thoughts and pack in style we didn't have to be running around on a Thursday night, packing for a swift Friday departure as is our normal getaway! A quick train to Glasgow, a slow bus to Glasgow airport and straight through departures gave us enough time for lunch and to meet our plane. IcelandAir to Reykjavik!
Iceland is one of those places that we'd both always thought about visiting, but never got around to. So, why not now? Icelandair allow us to break the US flight at no extra cost, so with the judicious use of reward points (more on that later!) we have a cheap grand tour planned. The verdict on IcelandAir? Pretty good. An old 757 brought us here (equipment change) but to make up for that we all got ipads to choose our in-flight entertainment from, even in economy. Nice :)
A short 2.5hr trip saw us in Iceland and another longish coach journey dropped us off at the Park Inn hotel for two nights. The plan was to chill out in town for a couple of nights, before moving out to an apartment in the country to really chill & recharge our batteries for the next few days before we move on. Checking into the largest room in the hotel (upgrade!!) was certainly going to help here!
The view from our hotel room
After a swift unpack, we decided food was in order and a swift google found Eldsmidjan was just around the corner. You can't beat Pizza :) Actually, you really couldn't - this place was great. I also discovered something very important about Icelandic alcohol prices....
Alochol in Iceland is EXPENSIVE. EXPENSIVE with a capital E and capital, well, everything else. A beer in a restaurant will set you back at least £8 and you don't want to know the prices of spirits... This is why the baggage reclaim hall in the airport looks like this: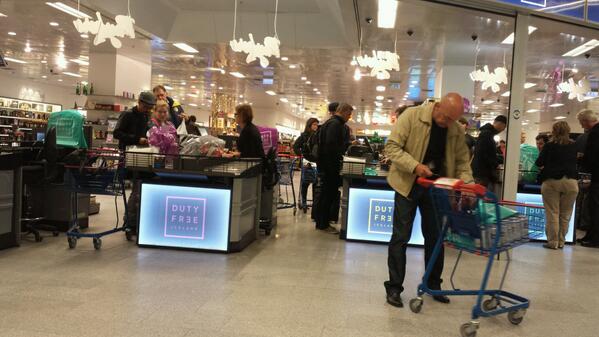 Yup, a supermarket after arrivals, stuffed full of booze and flight crew! Anyway, I digress.... the beer in the pizza place was only £1.50, which intrigued me somewhat! It turns out that the beer I'd spied on the menu was a 'Lettol' or low alcohol beer. Not alcohol free, just 2.25% and actually, not bad at all. I would be extremely pleased with this discovery, except I'd already gone through duty free and stocked up to the max. Well, when in Rome...!
Next up, Reykjavik proper and a swift change of plan!